"A kitten is the most irresistable comedian in the world. Its wide-open eyes gleam with wonder and mirth. It darts madly at nothing at all and then, as though suddenly checked in the pursuit, prances sideways on its hind legs with ridiculous agility and zeal"

Agnes Repplier, American Essayist
~ ~ ~ ~ ~ ~ ~ ~ ~ ~ ~ ~ ~ ~ ~
How better to describe a Somali kitten?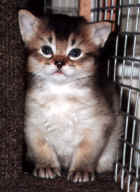 This page is for our newest litter of kittens, some of whom may be for sale, others we may have decided to keep ourselves - unfortunately, we have an almost irrestistible urge to keep all our kittens! All our kittens are sold at what is known as "pet price". We do not charge more for kittens which we consider to be show quality or breeding quality. Our feeling about this is that there is no guarantee that a kitten assessed as show or breeding quality at 13 weeks will fulfil that promise on maturity, whereas a kitten sold as a pet will always (we hope) be valued as a pet and if it has a successful show/breeding career, that is a bonus for the owner. We certainly like to think that every kitten we sell will be valued as a much loved pet, not because of any other successes it may have and therefore we feel that charging our kitten buyers pet price is ethically correct.
Our kittens are all born in our bedroom, where they spend the first 5 weeks of their lives, safe and snug in their kitten box with their mother. By the age of 18-24 days, depending on individual kittens, they take their first steps outside the box and take their first taste of "real" food. From then on we are all on a roller-coaster ride of fun and games - Somali kittens are so "wired-up" they are such fun. At 5 weeks old, which is the age when socialisation becomes important, they come downstairs into our living room to join the family and meet lots of visitors. Under the rules of the Governing Council of the Cat Fancy, pedigree kittens must be vaccinated and at least 13 weeks old before they go to their new homes, which is something Barry and I are completely in agreement with. By the time our kittens are 13 weeks old they are well equipped to deal with the stress of changing homes and tend to go into their new homes confidently. Naturally, we are really sorry to see them go, which is why we keep some here with us, but we count ourselves so very fortunate that, to date, our kittens have gone to wonderful homes with kind, caring people who have carried on our practices and given our kittens secure and loving homes.
For Purrdy's sixth litter we have gone back to one of our favourites studs, Gr Ch Pinegrove Macca Ronni. The kittens duly arrived on the 26th October 2004. Three usual boys who are now creating mayhem in my house. My living room looks like I've just held a playgroup for 30 under-5's!!! One kitten is booked, happily going to a couple who bought a boy from Purrdy's last litter, one is going to a family who already have a Somali (Somalis are very acquisitive - once you have one, you need to have more!), leaving one wee boy who as yet does not have a home - Aaaah bless! Contact us if you are interested!
If you would like to see our previous litters take this link to Purrdy's page to see her latest litter of kittens or go to any of our breeding queen's pages to see their litters.
Please remember to sign our Guestbook - we love to hear comments from visitors.